A simple and classic way to a beautiful floor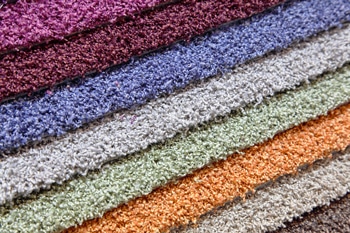 A simple and classic way to a beautiful floor
There are many reasons why most of the people around the world prefer to use carpet as a floor covering option. It offers plenty of colors, range, styles and fibers to choose from that one can't simply resist. Their soft cushion is sound absorbent so tapping or echoing of shoes or high heels cannot be heard while one is walking or rushing. Since they are affordable, they make a best alternate to expensive floor tiling. Their insulating and cushioned properties make your area warm in the cold seasons and prevent expensive things from breakage on falling down. The underfoot comfort is best experienced when you have a fine, thick and soft yarn underneath and allows you to go barefoot with great ease.
Plush carpet is one such unique variety that is made of a very soft and thick fabric whose yarn is so tightly twisted to give it a lifelong durability and hence best suited for comfortable areas like living room, family room and a bedroom. It appears and feels very welcoming and comfortable to walk over. The finishing of the plush carpet is extremely smooth so whether you use it in solid colors or neutral tones, it augments the entire appearance of your place. Not just homes, plush carpet are a popular choice for formal meeting and board rooms in offices too. Its velvet look, soft and smooth finish adds a touch of elegance to the entire décor and complements the corporate formal look. The universal appeal and versatility of plush carpet makes it a popular choice in both residential and commercial buildings.
While they are extremely classy and long lasting, one must take due care in cleaning and maintaining them. Since they are highly dense and twisted than normal carpets, any spillage of liquid can permeate deep inside it easily leaving a foul smell and may be an inside stain. Just clean and wipe individual spills at the same moment to avoid hassles later. Get it steam cleaned by a professional at least once a year for long durability and keep rotating the furniture in a room else it may leave deep crushing pile marks on specific areas.
There are many retail outlets and furnishing shops that deal in plush carpets, however buying them online can be a best deal for you. There are numerous manufacturers and wholesalers of reputable brand who give a direct supply of your selected plush carpet at your home at the best prices. This eliminates the cost of middleman and offers you a direct warranty direct from the place of origin. You may also check for life time replacement options if they have any. And if you are unsure which design or pattern will best suite your needs, their expert sales man's advice is a delightful treat you just cannot ignore. The professional installation of the wall to wall carpet by the experts will give you a memorable flooring solution to your home and office.